Horn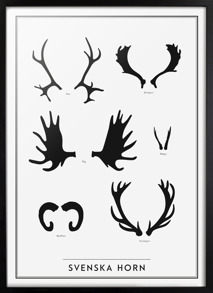 Pris:
350 kr
Inkl. 25% Moms
Antal:
Våra svenska vilda horn samlade på en kunskapstavla.
Finns i följande storlekar;
30 x 40 cm
50 x 70 cm
Tryckt på ett högkvalitativt 200g/m2 matt papper som både är åldersbeständigt och miljömärkt med EU Ecolabel och FSC.
På varje tavla handpräglas ett sigill varav varje tavla blir unik.
Tillverkas i Sverige.
Levereras utan ram.
Fraktfritt "world wide" vid köp över 600 SEK.
_________________________________
Available in two formats;
30 x 40 cm
50 x 70 cm
Printed on high quality 200g/m2 matt paper that is both age-resistant, FSC- and EU Ecolabel certified.
Each print is signed with the Kunskpastavlan hand-embossed seal, making each one unique.
Made in Sweden.
Free shipping world wide over 600 SEK.
Free shipping within Sweden.